When choosing window treatments for your home, you may be on the fence about whether to splurge on plantation shutters, or stick with the more cost-effective faux wood blinds.  We are here to break down the pros and cons of each, and hopefully help you make the decision that is best for you and your home.
Plantation Shutters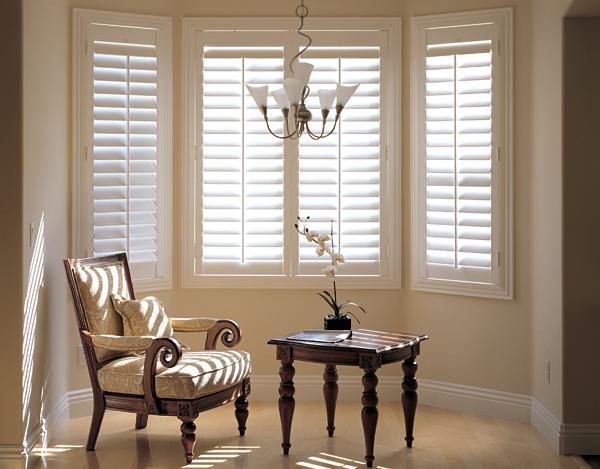 Plantation shutters are a classic window covering, especially for the southern home.  While more expensive than wood or faux wood blinds, they are of excellent quality, and will last for years to come.  Plantation shutters come with many available features, and are custom made to fit any window.  Plantation shutters also provide excellent light control, and are extremely energy efficient compared to traditional blinds.  Plantation shutters can add value to your home, and should be considered an investment.  In our opinion, plantation shutters always add sophistication and elegance to any room.
Wood and Faux Wood Blinds
Wood and faux wood blinds are a great choice for many homes.  Blinds are much more cost-effective than plantation shutters and can still add sophistication to any room.  Modern blinds also come with features that make them much more practical for the average home: crown valances add elegance to the window and look great with your window casings, and many styles come with routeless slats that allow much more light control than traditional blinds.  The color selections are endless, and you can choose a custom match for much less than the cost of plantation shutters.  If you live in a home with children or pets, wood and faux wood blinds are an excellent option since we can easily repair or replace the blinds at a low cost to you.
Many customers choose to do a combination of both plantation shutters and blinds in their home.  Because both products have a similar aesthetic, you can easily combine both products in your home.  Most of our customers choose to do either plantation shutters on all front facing windows and blinds on the remaining windows, or plantation shutters on the first floor and blinds upstairs.  Both of these options look great, and are much more affordable than plantation shutters throughout the entire home.  The one piece of advice we have about combining both plantation shutters and blinds in your home, is to make sure each room is consistent.  You can do blinds in one room and plantation shutters in another, but we do not recommend mixing both in the same room.
If you are interested in adding plantation shutters or blinds to your home, please contact us to schedule a free in-home consultation with one of our sales consultants.
Motorized window shades are a great option for operating shades on hard to reach windows. Motorization is offered in a variety of window treatments including wood blinds, roller shades, silhouettes, honeycomb shades, and shutters. Once you have decided on motorization for your window shades, you must now consider the power supply options. There are two types of power supplies for motorized shades; a battery pack and an AC adapter. If you don't have any electrical outlets near the top of your windows that are getting the motorized shades, then a battery pack is your best option. Battery packs do not require any direct wiring to outlets and can be easily switched out when the batteries die. A typical battery pack takes 10 AA batteries and, if used twice a day, will last an average of two years until replacement is needed. The only drawbacks to battery packs is that they lack the power to operate larger shades and,when installed on upper windows, an extension ladder is required for battery replacement. If you have electrical outlets nearby, then you may want to consider an AC adapter connection. This connection plugs into a standard three pronged 120 volt electrical outlet and looks like a cell phone charger. This allows you to operate your motorized roller shades without the worry of battery replacement or the shade size. Motorized shades are a great additional feature to most window treatments and, with the right power supply in use, are the easiest shades to function.
Roller window shades are always a great window treatment option to have in your home. Roller shades are offered in a large variety of fabric textures and colors, with  several add-on accessories to "dress-up" the window shade. One such accessory is a hem bar. A hem bar is a weight ovular rod that the fabric is stitched into. The hem bar weight creates a smooth, wrinkle-free operation of the shade and accents the beauty of the fabric. One frequent mistake we see with hem bars, are roller shades that are ordered without a "fabric wrap". A fabric wrap is when the fabric overlaps the hem bar and is attached on the backside of the fabric after is wraps around the hem bar. If the fabric wrap is not ordered, the shade fabric is inserted straight into the middle of the hem bar and is prone to separate from the fabric due the hem bar weight. Using a "fabric wrap" on your roller window shades prevents this from happening and allows for a more continuous overall appearance of the window shade.
One of the nicest features of our faux wood and wood blinds are the 3″ crown valences that cover the blind head-rail. The valence is color coordinated with the blind and matches most common trim work (i.e. baseboards, crown molding). Although these valences look great, when standard "U" shaped valence clips are used to for installation, the valence all of a sudden looks tacky and cheap! These flimsy plastic clips wrap around the bottom and top of the valence, creating an eye soar on each side of the blind valence. To avoid this senseless error, we always use hidden clips on our window blind valences. These clips attach to a routed grove on the back of the valence, creating the same structural hold as the exposed clips, and completely hidden from the front of the blind. Of course we would like to be the one's to sell you your blinds, but if you go with one of our competitors, make sure you request hidden valence clips on your blinds!
Once you have decided that 2″ or 2 1/2″ blinds are the right window treatment for your home, the difficult process of color selection begins. When selecting the proper window blind color, you need to consider several variables. The first, and most important, is to ensure that the blind colors are the same for each side of the house. A common error we see are blinds that are one color on the first floor front facing windows and a completely different color on the second floor front facing windows. The problem is that, although they coordinate with the interior of the home, that blinds will not match from an exterior perspective. The second variable is paint color. Keep in mind that you will have these blinds for several years and if you ever decide to change the paint color,  you need to make sure the blind will coordinate with the new color as well. This places more emphasis on choosing a neutral color over an accent. The last variable to consider is the light impact on the home interior. Darker colored window blinds, if installed on every window, will darken the home even if fully open. If you like to darker stains, we recommend ordering them on specific windows instead of throughout the entire home. Of course, with all this said, there is nothing wrong with selecting pure white blinds throughout that will match anything!